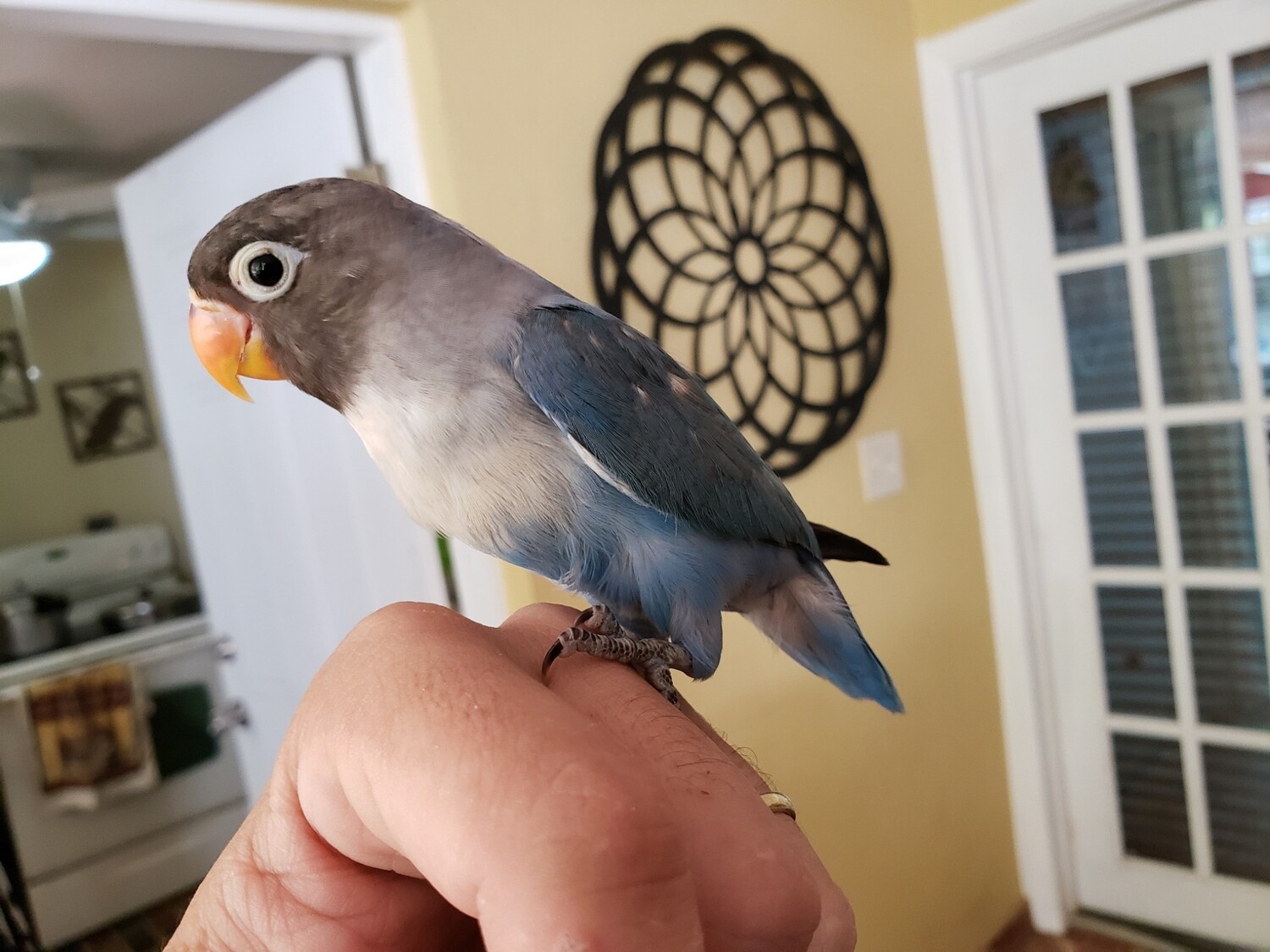 Blue Black mask Handfed Lovebird for sale
01166
Product Details
Product Details
Blue Black mask Handfed Lovebird for sale

The Lovebird that you will see below posted for sale are not exactly the Lovebird that you will receive when you place your order. However all Lovebird look the same among their specie or mutations. That is why is important that when you place your order you pic the one that has the specifications that you are looking for and we will match it for you. pictures and videos will be provided upon request after the order has been made. Lovebird orders can take up to 45 days of processing time due to the high demand.
Age when shipped: 70 Days old
Sex🙁 Male or Female By the Pelvic bones )
Specie : Black Mask
Color : Blue
Status When Shipped : Weaned 100% Handfed & Tame no biting Guarantee
Behavior : Lovely- will not bite – Not be Afraid Of Hands.
EDT ( Estimate Delivery Time) : will take up to 90 days to finish the process from the date the order is process.
Any order can take from 30 to 45 days to start the processing time.
Terms and Agreement : Welcome to TampaLovebirds the Lovebird Super Store! Here you will find a large variety of Lovebirds and all other type of parrots available for sale and some other species of Birds. Thank you for shopping with us! Is Important to Read Before you buy
Tampa Lovebirds is not responsible for any sold lovebirds or any other birds in our online store. All of our live birds for sale have no WARRANTY. All sales are final there is no return or exchange of any live birds under any circumstance. Orders can take up to 45 to 90 days to process depending on availability. ( Patience is require when purchasing a live bird) The birds that are listed in the pictures are not necessary the birds that you will receive, Some birds are in our aviary and wile others come from our private breeders directly to our fulfillment center. Once your order is place and your bird has arrive our fulfillment center we will update you with pictures and videos. No bird comes with a health certificate at the point of sale. When you buy a bird from our store you are aware of the risk that you take when you invest in a live bird, anything live can died on any given moment for a large number of reasons, and is not cover for any reason. If you are not ok with this rule do not buy any live bird.
Once a Bird Leaves the store or aviary it is expose to the outside environment and any infections, diseases, bacteria or trauma is 100% the responsibility of the Customer and not the store.
PICK A SHIPPING METHOD
USPS Shipping Method $65.00 (PHOTO ID IS REQUIRED) – The United State Postal Service is a 2 days Guarantee Delivery. It can take up to 2 days to arrive to your local USPS office. Some stations will call you to pick it up and others have the option of delivering it to your home. With this process we have a

live arrival guaranteed

. If any lovebird or birds arrive dead at the time of delivery we will give you the money back for the value of that bird or give you a store credit for your next purchase. These shipping methods do not cover any in transit damages like broken beaks, legs or feathers.

This live arrival Guarantee is only effective if the customer informs us at the time of pic up. If you do not inform any deaths at moment of pick up or arrival it will not be covered by this guarantee.



DELTA AIRLINES Method $165.00 (PHOTO ID IS RECUIRED) – Delta Airlines is same day delivery and you will have to pick it up at your local International Airport Cargo department. With this process we have a live arrival guaranteed. If any lovebird or birds arrive dead at the time of delivery we will give you the money back for the value of that bird or give you a store credit for your next purchase. These shipping methods do not cover any in transit damages like broken beaks, legs or feathers. This live arrival Guarantee is only effective if the customer informs us at the time of pic up. If you do not inform any deaths at moment of pick up or arrival it will not be covered by this guarantee. Airport Name

Save this product for later